Greetings bloggy friends,
I have been working feverishly on a few little pet projects... one is a teacher blogger's dream-come-true that I am excited to unveil soon, so stay tuned... but I do have some pretty exciting happenings in my little world and... No, I am NOT pregnant. I feel like I am finally at the age where any time I tell someone that I have something exciting going on in my life, they immediately begin planning baby showers, names, and future play dates. No babies for me. Yet.
This IS a pretty formal announcement, though.
Ahem.
Last year, I established the highly vaunted and sought after Husband of the Year award. It was touch and go for a bit, but I am happy to report that my husband took the honors rather early in the year.
Husband of the Year 2012:
Now, again, not one to breed mediocrity, I wanted to set the stakes a bit higher this year. Well, friends, it is only January, but I think that is safe to say that he has really outdone himself this year. I am contemplating ordering a trophy. An ENGRAVED one. Check out what I got yesterday!
Husband of the Year 2013:
He doesn't know it, but he also bought me that coffee... whadda' guy!
As if a new MacBook Air isn't enough... a new computer is pretty much useless without software (or, so I'm told) So, my latest little addition to our family is the full Adobe Creative Cloud Suite. I think that it's safe to say that there are some late nights, high learning curves, moments of joy and moments of frustration in my near future. Maybe this is like having a child, after all :)
Right now seems an appropriate time to use the blog picture that my husband thinks is ridiculously dorky, but I think aptly expresses my sheer excitement over all of this.
At any rate, I will be back to wow you all with some fantastic digital resources and tools on Monday, but as I migrate data and program information, check out these awesome bloggers. They will knock your socks off, fo sho!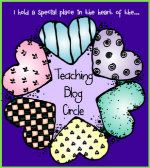 Stay connected!